Do you need a beautiful ebook cover to sell your ebook? Yes. (Turns out people do judge a book by its cover.)
Do you need to spend a fortune paying a designer to do it for you? No.
Here's how to get your ebook cover designed for only 5 bucks.
1. Go to fiverr.com
2. Click the on "Graphics & Design" link
3. Click "Ebook Covers and Packages"
4. Click "High Rating" next to the green box called "Recommended" and select the first one or two boxes. These are the most experienced, highest rated designers for your e-book.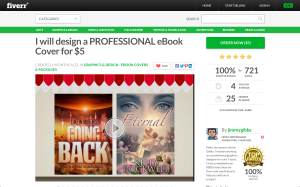 5. Click order now 5$
That's it.
It is up to you to provide the text for your e-book. Put thought into your title, subtitle and cover design. The better you can communicate your e-book cover ideas to the designers, the better chance you will be happy with the work.
My suggestion…
Find 3 book covers you like and attach them to your order. Explain what you like about each book cover to give your designer more information on what you want.
And that's how you design your ebook cover for 5 dollars.